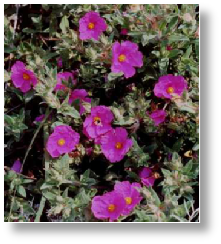 There are several small shrubs that you could plant in your two borders. If you choose a selection from each group they will provide you with colour at almost every season. All are suitable for sun and shade except those marked, which only thrive in full sun. Our suggestions include;
Spring: Berberis buxifolia 'Nana', Ceanothus 'Repens' (sun), Cistus 'Sunset' (sun) (figure 1) and Skimmia japonica 'Fragrans'.
Summer: Caryopteris x clandonensis (sun), Cistus 'Sunset' (sun), Fuchsia - hardy types such as 'Tom Thumb' (figure 2), Hebe 'Carl Teschner' and shrubby Potentillas, includes 'Red Ace'.

Autumn: Abelia chinensis, Ceratostigma willmottianum (figure 3), Cotoneaster franchetii, Hypericum Tricolor and Viburnum davidii.

Winter: Euonymus fortunei 'Emerald Gaiety', Mahonia aquilifolium, Pachysandra terminalis, Sarcococca humilis and Ruscus aculeatus (figure 4 ).