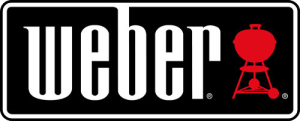 We have chosen to stock Weber barbecues because we believe they are the best at what they do. They are the world's number 1 barbecue brand and for them it's the experience of cooking delicious food outdoors that drives them to be the best.
Weber began in 1952 with George Stephen, a fishing buoy engineer, becoming frustrated with open grilling. He decided to create his first BBQ from a buoy cut in half, creating a BBQ that capitalises on both direct and indirect heat. After various different attempts he came up with the Kettle shape that we all now recognize as the Weber brand symbol, which controls the flow of air, allowing food to be cooked evenly. Gone are the days of the traditional barbecue experience of burned food that is still raw in the middle!
In 1985 Weber began to manufacture gas barbecues, further developing this concept in 2004 launching compact barbecues perfect for camping, picnics and weekends away. Peter Brown, one of the partners, purchased a Q gas BBQ for his stag do back in 2007 and has had it outside ever since and is happy that it still performs as well as it did on that first weekend that he took it out of the box. Since buying his first Weber product he has gone on to learn about smoking on the 57cm smoker and is now learning the art of Pizza making on the Pizza oven!
So, in essence, with the help from Weber we know we can offer to you the barbecuing solution to suit your needs and a whole host of accessories to make everything just that little bit easier. Feel free to chat to any of our team who can talk you through the many ways you can create fabulous food on a Weber product. For added peace of mind, remember there are fantastic warranties from Weber, from 5 years to 25 years depending on the barbecue, proof that they believe in their products as much as we do.
Barbecuing is about enjoying time with family and friends, relaxing, eating and socializing in the great outdoors, and when you have a Weber to cook on you know you have a product that you can rely on time and time again.